---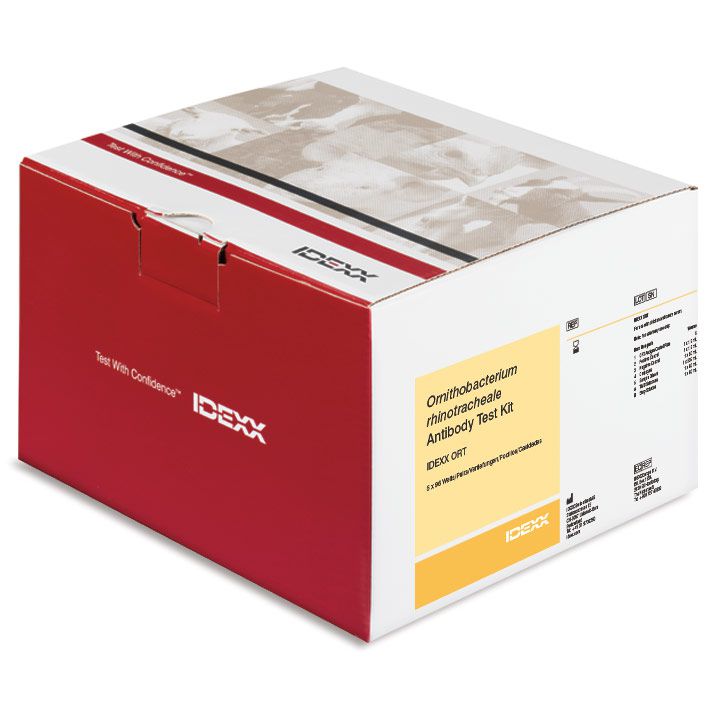 Box sizes and labels will vary.
IDEXX ORT Ab Test
Ornithobacterium rhinotracheale (ORT)
The IDEXX ORT Ab Test is an indirect ELISA for the detection of ORT antibodies in chicken and turkey serum. This test has been developed as a flock screening tool to aid in diagnosis of ORT.
* Availability / Distribution: Outside the U.S. 
Test details
---
Features
Serum samples
Indirect format
Chicken and turkey samples
Part numbers and sizes
99-43600 (5 plates/solid)
About Ornithobacterium rhinotracheale (ORT)
Ornithobacterium rhinotracheale has been associated with respiratory disease, increased mortality, retarded growth and decreased egg production in avian species worldwide. Viral or bacterial infections by IBV, APV and NDV are able to trigger an ORT infection. An assessment of immune status, as well as serologic identification of ORT, requires a measurement of antibody to ORT in serum. Enzyme-linked immunosorbent assay (ELISA) systems have proven efficacious in the quantification of antibody levels to ORT, and facilitate the monitoring of immune status in large flocks. The IDEXX ORT Ab Test detects serological response to ORT serotypes A–M.
All testing solutions
IDEXX ORT Ab Test
---

* Not all products are available and/or registered in every country.
---