---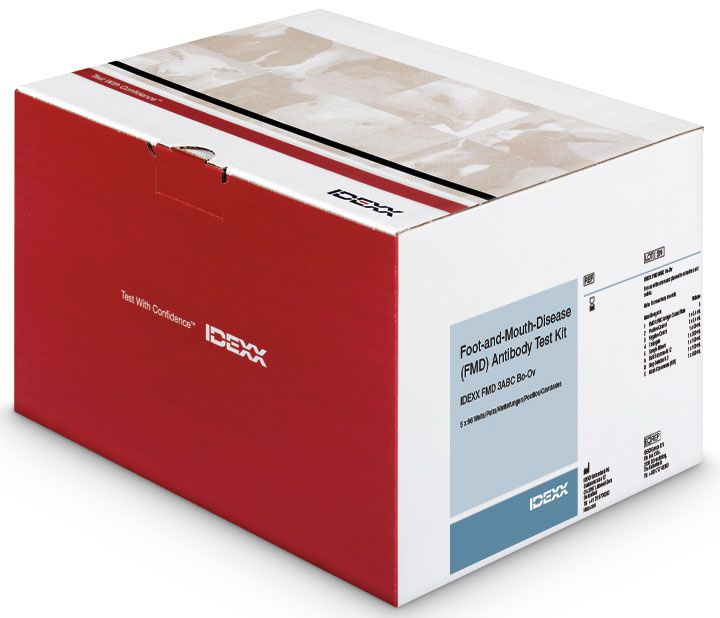 Box sizes and labels will vary.
IDEXX FMD 3ABC Ab Test
Foot and Mouth Disease
The IDEXX FMD 3 ABC Ab Test Kit is an enzyme immunoassay for the detection of antibodies against Foot-and-Mouth Disease (FMDV) in serum or plasma samples of bovine and ovine origin. This test differentiates between samples from infected (3ABC positive) and vaccinated (3ABC negative) animals.
* Availability / Distribution: Outside the U.S.
Test details
---
Features
Detects anti-3ABC antibodies
High specificity with samples from multi-vaccinated animals
Ready-for-use reagents
Easy automation
Easy data management when used with xCheck software
Part numbers and sizes
FBT1139T (5 plate kit / 5 strip plates)
About Foot and Mouth Disease (FMD)
Foot and mouth disease (FMD) is a contagious virus that can spread rapidly among cloven-hoofed livestock and wildlife populations. Its economic impact can be felt directly, in the form of lost milk production and dramatically reduced performance in affected herds, as well as indirectly, in terms of foregone revenue and additional costs driven by the need for vaccines.1 The IDEXX FMD 3ABC Test helps laboratories, governments, veterinarians, and farmers manage the threat of this highly contagious disease.
All testing solutions
IDEXX FMD 3ABC Ab Test
---

* Not all products are available and/or registered in every country.

References
1.  Rushton J, Knight-Jones T, Donaldson A, de Leeuw P, Ferrari G, Domenech J.
The impact of foot and mouth disease. www.oie.int/doc/ged/D11888.PDF.
Accessed January 30, 2017.
---