---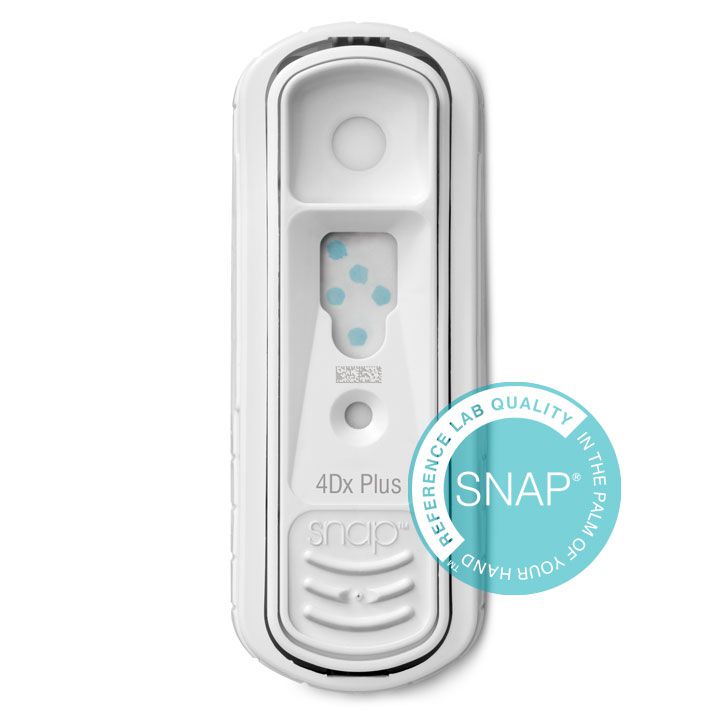 SNAP 4Dx Plus Test
The accuracy you need. The efficiency you want.
Reference lab-quality technology for diagnostic accuracy at the point of care.
Store tests at room temperature (25°C) for up to six months for improved workflow.
Automatically activate and read results of SNAP tests to save time and improve workflow with the SNAP Pro Analyser.†
Get support in results interpretation and next-step considerations through medical support, scientific information, and algorithms.
Access the most complete and advanced menu of tests at IDEXX Reference Laboratories should you need follow-up testing.
 
Screen for 7 vector-borne pathogens
Anaplasma
Annually screen dogs to identify exposure to Anaplasma phagocytophilum and Anaplasma platys. Early detection improves patient prognosis and reinforces the importance of tick control.
Lyme disease
More accurately identify Lyme disease in clinically and subclinically infected dogs with proven C6 ELISA technology. The SNAP 4Dx Plus Test identifies antibodies that are produced only as a result of a Borrelia burgdorferi infection.
Ehrlichia
Detection of antibodies to Ehrlichia canis, Ehrlichia ewingii, and Ehrlichia chaffeensis indicates tick exposure and the transmission of infectious agents. Additional testing is recommended in these patients to determine if there is an active infection. Controlling the infection early is the best way to protect your patients from chronic disease.
Heartworm
Heartworm disease has been found in dogs worldwide. While heartworm is both treatable and preventable, it is a serious and deadly disease that may show no clinical signs in its early stage. Screen annually to find even low worm-burden patients sooner and more often, and begin treatment when you can do the most good.
Accuracy
One SNAP can change everything
Watch how SNAP technology delivers superior diagnostic accuracy—and see what you may sacrifice when you use a test without it.
White papers and peer-reviewed literature
​ Accuracy of the SNAP 4Dx Plus Test ​
Related products
Get the most out of your SNAP 4Dx Plus Test

View and trend all your results
Get a more complete picture of your patient's health with IDEXX VetConnect PLUS.

Automate your work flow
Reduce the chance for human error and integrate your SNAP results with the SNAP Pro Analyser.

Follow up for deeper insights
For quantitative results and Lyme disease treatment guidance, order a follow-up Lyme Quant C6 Test from IDEXX Reference Laboratories.
Learn more about the IDEXX 4Dx Plus Test
A representative will help you every step of the way.
Support
0203 7887 508
Order tests & supplies
Learn more about ordering direct from IDEXX and order your in-house tests and supplies today.
SNAP 4Dx Plus Test Part Numbers
5 tests: 99-0011514
15 tests: 99-0011515
30 tests: 99-0011516
†SNAP Pro Analyser sold seperately.
References
Goldstein RE, Eberts MD, Beall MJ, Thatcher B, Chandrashekar R, Alleman AR. Performance comparison of SNAP 4Dx Plus and AccuPlex4 for the detection of antibodies to Borrelia burgdorferi and Anaplasma phagocytophilum. Intern J Appl Res Vet Med. 2014;12(2):141–147.

Eberts MD. Performance of SNAP 4Dx Plus and AccuPlex4 in dogs with different heartworm burdens. Intern J Appl Res Vet Med. 2013;11(1):7–9.

Liu J, Drexel J, Andrews B, Eberts M, Breitschwerdt E, Chandrashekar R. Comparative evaluation of 2 in-clinic assays for vector-borne disease testing in dogs. Top Companion Anim Med. 2018;33(4):114–118. doi:10.1053/jtcam.2018.09.003
---