---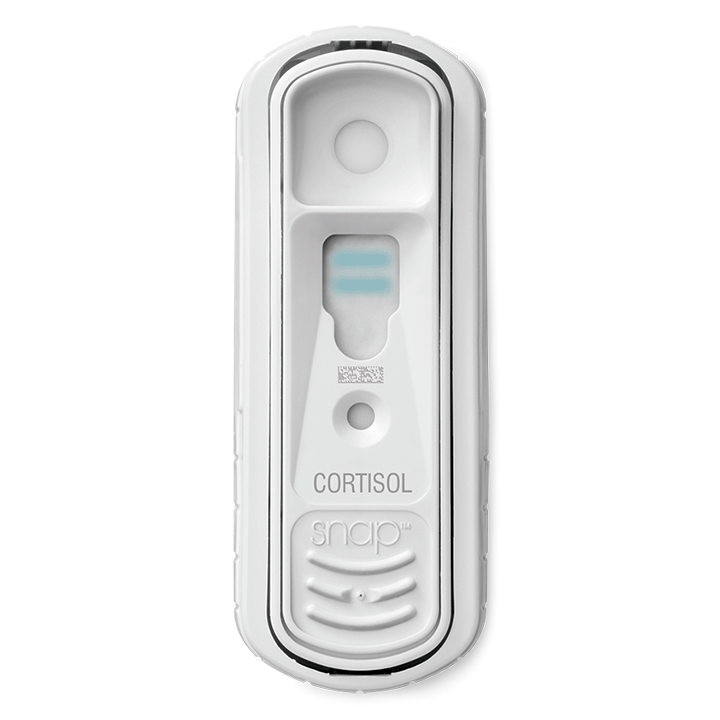 SNAP Cortisol Test
Detect canine Cushing's Syndrome and Addison's Disease with the SNAP Cortisol Test
Because it is fully quantitative, you can continuously monitor treatment and evaluate your patients' therapeutic responses.
The course of Cushing's Syndrome and its clinical signs progress slowly. Pet owners typically report behaviours/symptoms typical of Cushing's Syndrome for six years prior to seeking veterinary assistance because the signs are attributed to normal ageing rather than signs of disease.
Addison's Disease, once thought to be rare, is now suspected to be a more common canine endocrinopathy.
---
Benefits
Everyone benefits from accurate in-house cortisol testing
Use the SNAP Cortisol Test to:
Screen for Cushing's Syndrome and Addison's Disease—With accurate and fast results in-house, you can begin treatment or follow-up testing in the same visit.
Improve pet-owner satisfaction—With a five-minute incubation time and results in as little as six minutes, you have answers for your clients during their visit or when they pick up their pets.
Monitor medication—Use the SNAP Cortisol Test as part of your protocol to help evaluate the effectiveness of treatment and adjust medications as necessary.
 
The SNAP Cortisol Test uses proven SNAP ELISA technology to ensure the accuracy you need for confident diagnoses.
Accuracy
Accurately assess adrenal function
Get the convenience of timely results and the ability to initiate or modify therapy immediately by measuring cortisol concentrations in your patients using your in-house laboratory.
Each SNAP Cortisol Test lot is tested with canine serum from healthy animals and from animals being tested for adrenal disease using either dexamethasone suppression or ACTH stimulation tests.
This IDEXX internal calibration process ensures that each SNAP Cortisol Test lot maintains a high level of performance and will provide accurate results for patient samples across all areas of the range.
Get a more accurate read on your SNAP tests with the SNAPshot Dx Analyser:
The SNAPshot Dx Analyser reads and interprets test results for you, eliminating any doubts or subjectivity for more accurate, consistent answers.

Cortisol correlation of the SNAP Reader 1
The data presented show excellent clinical agreement between serum cortisol concentrations measured by the SNAP Cortisol Test and radioimmunoassay (RIA). An r–value of 0.97 indicates excellent overall agreement between cortisol concentrations measured by the SNAP test and cortisol concentrations measured by RIA.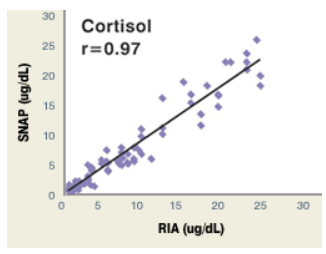 How To / Resources
1. Pipette the serum sample and add the conjugate.
2. Gently invert the tube 3 or 4 times to mix the sample and conjugate.
3. Incubate the sample for 5 minutes.
4. Pour the sample into the SNAP device.
5. When colour first appears in the activation circle, press firmly to activate. You will hear a distinct "snap."
6. Insert the SNAP device into the analyser.
View the package insert for detailed instructions.
---
 Reference
1. Data on file at IDEXX Laboratories. July 2003
---