---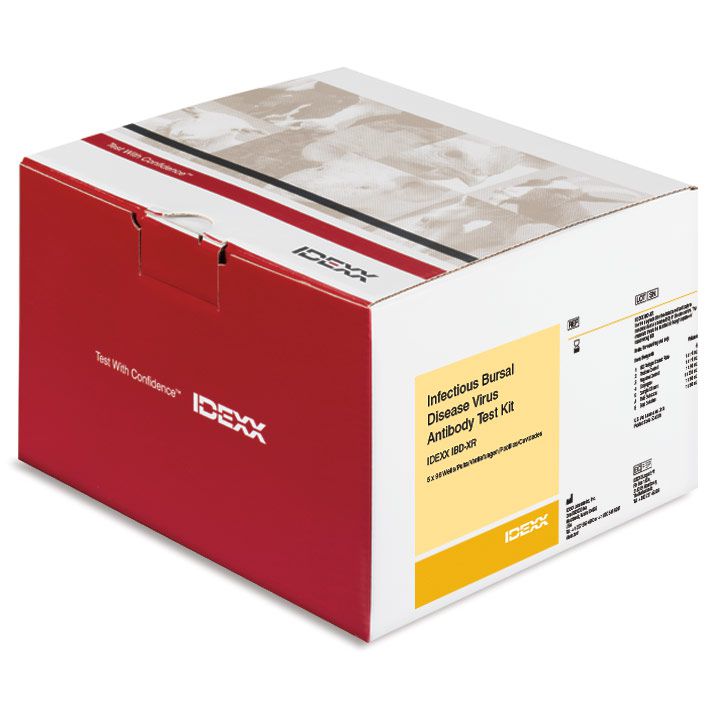 Box sizes and labels will vary.
IDEXX IBD-XR Ab Test
Infectious Bursal Disease (IBD)
Enzyme-linked immunosorbent assay (ELISA) systems are  efficacious in the quantification of antibody levels to IBD, facilitate the  monitoring of immune status in flocks, and aid in determining the appropriate  time for vaccination. 
   
The IDEXX Infectious Bursal Disease Test's ELISA has an extended titer  range to allow for the differentiation of IBD viruses and enhanced detection  of IBD variant strains.
* Availability / Distribution: Worldwide
Test details
---
Features
Serum samples
Indirect format
Extended titer range
Enhanced detection of variant strains
Part numbers and sizes
99-09261 (5 plates/solid)
About Infectious Bursal Disease (IBD)
Infectious bursal disease (IBD), or Gumboro disease, is a viral disease affecting chickens in a subclinical form (early bursa atrophy) that may lead to a temporary or permanent immunosuppression. The clinical form in chickens may appear at 3–6 weeks of age. The bursa becomes swollen and then quickly regresses to a small size, leading to suppression of the immune system. Symptoms include anorexia, incoordination and depression. Affected birds are more susceptible to a variety of infectious agents, including Staphylococcus, Clostridium, E. coli and the respiratory viruses. Coinfection with CAV can enhance the immunosuppression condition. Losses may approach 20% in an infected flock, and subsequent flocks may become infected from a contaminated living environment. An assessment of immune status, as well as serologic identification of IBD, requires a measurement of antibody to IBD in serum.
---

* Not all products are available and/or registered in every country.
---