---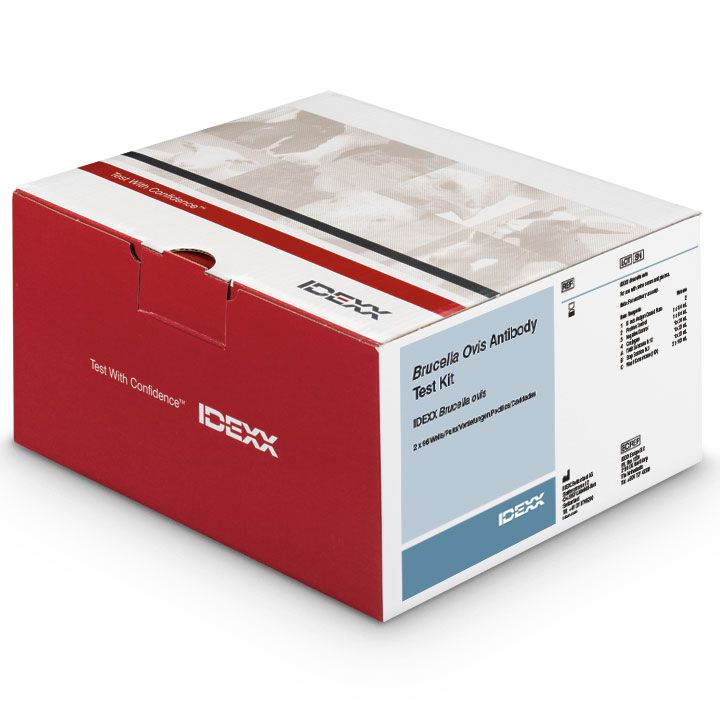 Box sizes and labels will vary.
IDEXX Brucella ovis Ab Test
Ovine Brucellosis
IDEXX Brucella ovis Ab Test provides a rapid, simple, sensitive and specific method for detecting antibodies against Brucella ovis in serum and plasma of sheep.
IDEXX Brucella ovis Ab Test includes chemical reagents (wash, substrate, stop solutions) that can also be used with IDEXX kits that test for other abortive diseases (B. abortus, neosporosis, toxoplasmosis, Chlamydia).
* Availability / Distribution: Outside the U.S. 
Test details
---
Features
Serum and plasma samples of sheep

Short protocol (60 minutes at 37°C)

Ready-to-use reagents
Part numbers and sizes
BOT1135T (2 plates/strips)
About Ovine Brucellosis
Ovine brucellosis is caused by a bacterium called Brucella ovis (B. ovis). All breeds of sheep are susceptible to brucellosis, which may cause considerable economic loss due to increased culling of rams, reduced lamb marking percentages and extended lambing seasons. The disease produces inflammation of the epididymis in rams and of the placenta in pregnant ewes. Ovine brucellosis has been recorded in sheep from Australia, New Zealand, the United States, South Africa and Europe.
The infection of pregnant ewes leads to abortion and neonatal lamb deaths due to microscopic and macroscopic changes occurring in the placenta and fetus. Infection does not persist in nonpregnant ewes, but may persist for several months in pregnant ewes. This characteristic has an impact in the control of the disease.
In many countries, the routine use of vaccines against brucellosis is no longer allowed. Brucellosis eradication programs are now based exclusively on the serological screening of sheep and cattle herds to detect and remove infected animals.
---

* Not all products are available and/or registered in every country.
---