---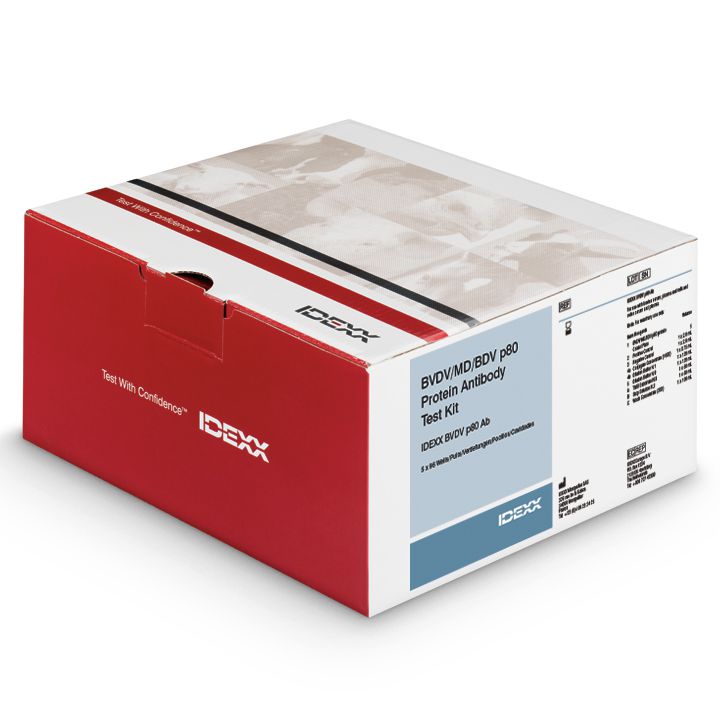 Box sizes and labels will vary.
IDEXX BVDV p80 Ab Test
Bovine Viral Diarrhoea Virus (BVDV)
The IDEXX BVDV p80 Ab Test is a blocking ELISA. It can be used on different samples: bovine serum and plasma, bovine milk samples for the detection of specific antibodies directed to bovine viral Diarrhoea virus, and ovine individual sera and pools of up to five sera for the detection of specific antibodies directed to the border disease virus.
* Availability / Distribution: Outside the U.S. 
Test details
---
Features
Serum, plasma or milk samples
Blocking format
Short and overnight protocols
Part numbers and sizes
P00645-5 (5 plates/strips)
About Bovine Viral Diarrhoea Virus (BVDV)
Bovine viral diarrhoea virus (BVDV) suppresses a cow's immune system, making the animal susceptible to a host of other infections. That's why BVDV is one of the world's most costly bovine diseases, with losses of $15–$88 per head from reduced herd productivity, health and reproductive efficiency.1
Stopping BVDV requires detecting and removing the infection source: persistently infected (PI) cattle that continually expose other animals to disease.
Because PI cattle often look healthy, a sensitive, specific diagnostic test is essential. Mistakes can be costly: whether it's removing a valuable animal from production or allowing an infected calf to join the herd.
Determining herd status is the first step toward a BVDV-free herd. IDEXX has a complete portfolio of BVDV tests, including antibody- and antigen-detection ELISAs for laboratories and rapid SNAP and point-of-care tests for veterinarians. The IDEXX BVDV PI X2 Test and the rapid IDEXX SNAP BVDV Antigen Test are USDA-licensed.
---

* Not all products are available and/or registered in every country.

Reference
1.  Data on file at IDEXX Laboratories, Inc., Westbrook, Maine, USA
---