---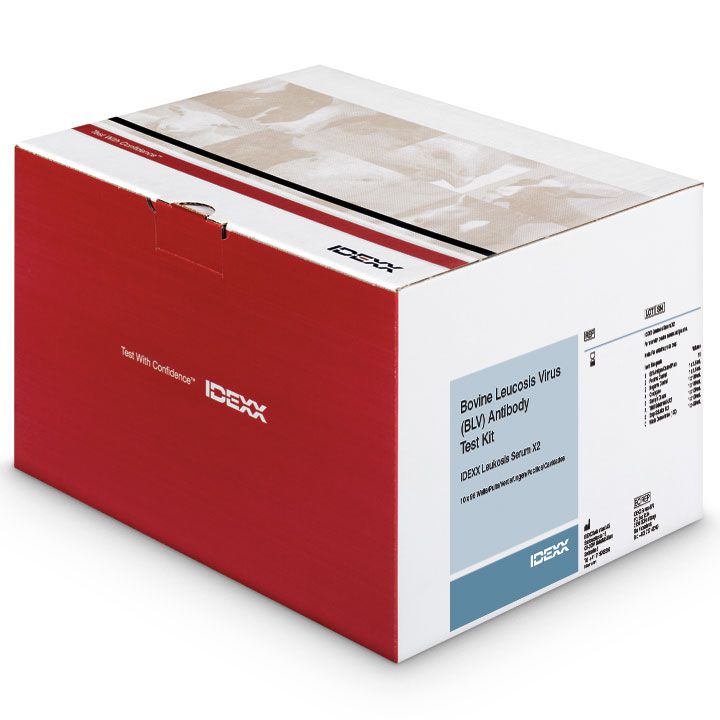 Box sizes and labels will vary.
IDEXX Leukosis Serum X2 Ab Test
Enzootic Bovine Leukosis (EBL)/Bovine Leukemia Virus (BLV)
The IDEXX Leukosis Serum X2 Ab Test is an enzyme immunoassay for the detection of antibody to bovine leukemia virus (BLV) in individual serum and plasma and pools of up to 10 individual sera or plasma samples from cattle.
BLV antibody detection by antigens produced on new cell line
Very high specificity—reduces the need for verification
Excellent sensitivity—fulfills OIE prescriptions and EU directives
Detection of antibodies against viral proteins, including the highly immunogenic early-appearing glycoprotein gp51
Modern kit format—easy to use, with ready-for-use reagents
High sample throughput—automation saves time and cost
Easy data management—can be used with xChek software
* Availability / Distribution: Outside the U.S. 
Test details
---
Features
Serum or plasma samples
Monophasic kit
Part numbers and sizes
EBT1132T (10 plates/strips)
About Enzootic Bovine Leukosis (EBL)/Bovine Leukemia Virus (BLV)
Bovine leukemia virus (BLV) is a retrovirus that may cause lymphosarcoma in cattle. The virus resides in blood lymphocytes where circulating antibodies are unable to neutralize it. Therefore, once an animal is infected with BLV, it is infected for life.

BLV is economically significant to the producer because of premature culling or death as a result of lymphosarcoma. Another concern is the condemnation of carcasses at slaughter, which has a significant economic impact on the dairy and cattle industries. Losses from export restrictions are another economic concern of BLV infection. Countries that have bovine leukosis control programs require BLV-free certification prior to shipping cattle to their regions. Moreover, exporters of semen are under increasing pressure to ensure that their product is from a BLV-free animal in a BLV-free herd.
---

* Not all products are available and/or registered in every country.
---