---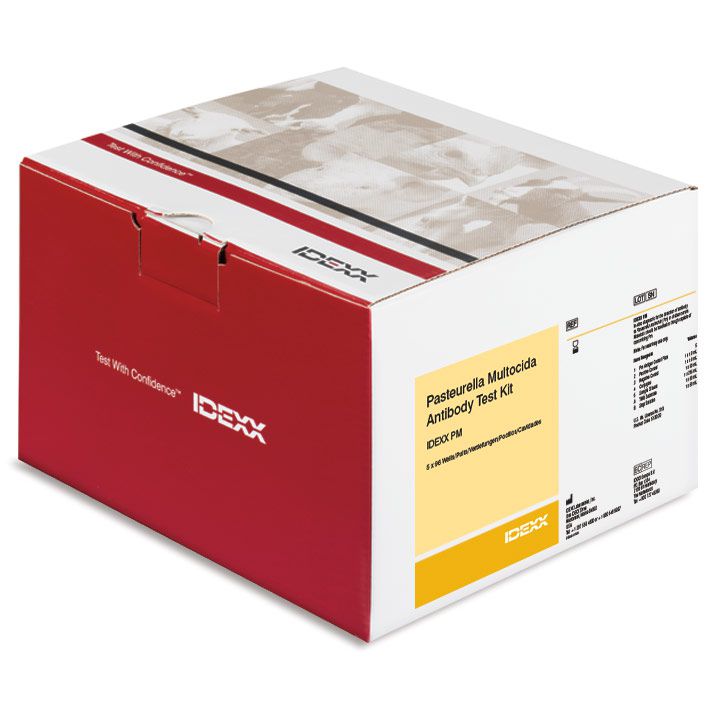 Box sizes and labels will vary.
IDEXX PM Ab Test for chickens
Pasteurella multocida (PM)
The IDEXX PM Ab Tests are enzyme-linked immunosorbent assay (ELISA) designed to detect antibody to Pasteurella multocida in chicken serum.
* Availability / Distribution: Worldwide
Test details
---
Features
Serum samples
Indirect format
Part numbers and sizes
99-09251 (5 plates/solid)
About Pasteurella multocida (PM)
Fowl cholera, caused by Pasteurella multocida (PM) infection, is a commonly occurring disease of birds. In the acute form, its usual symptom is a septicemia with associated high morbidity and mortality. Chronic localized infections can also occur, either following an acute exposure or resulting in infection with an organism of low virulence.
Clinical signs of acute infections are typical of bacterial septicemia, whereas the signs of chronic disease are typically related to the anatomic location of the infection. An assessment of immune status, as well as serologic identification of PM, requires a measurement of antibody in serum. Enzyme-linked immunosorbent assay (ELISA) have proven efficacious in the quantification of antibody levels to other diseases, and facilitate the monitoring of immune status in large flocks.
---

* Not all products are available and/or registered in every country.
---